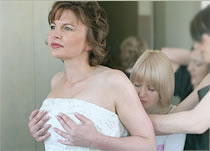 Your wedding will be one of the most memorable days of your life.
Why not take the stress out of deciding what to wear and how you want to look.

Initial Consultation
A consultation is the only way to begin your experience.
Having a one to one conversation with Aimee will satisfy your needs and leave you feeling reassured that together you will create the perfect plan, tailored specifically for you.
Aimee can help you to choose the perfect dress, style your hair and make-up and even dress you on your special day, leaving you feeling relaxed, confident, and looking beautiful.
All packages include a trial before your wedding day. This is a time for experimenting and trying out different looks.
You travel to me for your trial and I will travel to you on your day.
Quote
"Having Aimee with me on the day of my wedding was like having my own stylist for the day. She not only made me look better than I could have imagined, she also took care of the little things throughout the morning so all I had to do was relax and have the best day of my life!"
Anne, London

Getting married out of London
Are you,

Whether it is London or elsewhere, Aimee will leave no stone unturned to ensure that you have the very best on your wedding day. Aimee will travel to you, where ever you are getting married.
If your budget doesn't allow why not book a series of make up and hair lessons. You will not only ensure that you look fabulous on your big day, you will also learn lifelong tips and techniques.